This page or post may contain affiliate links.
Investing 101
So you decided you want to start investing, but now you're wondering how to get started. The news and media make investing on your own sound difficult and intimidating. I'm here to tell you that investing on your own isn't all that complicated, and this beginners investment guide will help you get started.
I started investing at a young age (I was 19) with no experience and very little knowledge of what I was doing. I jumped right into it, opened a brokerage account, connected my bank account, and began buying individual shares of stock. Back then I was unaware of the tax consequences of selling at a gain. I would sell every time a stocks share price increased and was shocked at the taxes I owed at the end of the year.
Luckily I've learned a lot since then, I now use the strategy of "buy and hold". In fact, now before I buy a stock, I research the company and will only buy if it's a stock I plan on holding it for ten years or more!
I've also expanded my investing horizons beyond just my TradeKing account, which I only use for individual stocks. I also use other brokerage services now that automatize my investing for me. One of my favorites is Betterment, this service manages and pick my investments for me based on my personal risk preferences and has the lowest fees I've seen. I'll get into more detail on some of the other types of brokers and investment services below. First however, we'll want to cover a few basic things about investing.
Related Articles:
The Investment Basics
Stocks and Bonds
Before you jump into investing you should know what stocks and bonds are and understand all their different counterparts.
More on Stocks and Bonds:
Mutual Funds vs Index Funds
You should also be able to distinguish and explain the difference between an Index Fund and a Mutual Fund.
More on Mutual Funds and Index Funds:
Foreign Markets and Currencies
Foreign markets and currencies are usually for more experienced investors and not something beginner investors must know — but it not a bad idea to learn and understand them.
More on Foreign Markets and Currencies:
Stocks and Bonds Are Not the Only Type of Investments
There Are Many Different Types of Investments
It's very important to remember that though stocks and bonds are two of the most common investments, they're not the only investments. It's important to diversify your portfolio to minimize any losses. They're are countless types of investments out there, but not all investments are for everyone, and you should always do your research before investing.
Related Articles:
---
Investing Online
Picking the right online broker and/or investment service when starting out is important. Here are a few of the brokers and services that I use. All the brokers below are unique and differ from one another by specializing in certain niches of investing. I listed these because I've used them myself and have been very satisfied with what they offer. You can also check out our investing resource page to learn more.
1. Betterment
Betterment is the largest automated investment service, not to mention one of my favorites! This is the perfect service for anyone who doesn't know much about investing, just beginning, or anyone who doesn't want worry about managing their investment portfolio.
They'll help you manage and grow your wealth to achieve optimal returns. How does it work? They invest your money for you based on your personal preferences such as risk tolerance and age. They offer tax efficient investing and have low fees.
→ Read Our Full Review on Betterment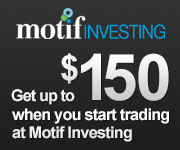 2. Motif Investing
Motif Investing lets you can open a Free Account with these guys and get Commission-Free, Professionally Built Asset Allocation Models. They have No Monthly Fees and its very simple to use.
They have three user risks levels to choose from, Conservative (low risk), Moderate (medium risk), and Aggressive (high risks). Based on your risk and personal preferences, it'll provide you with investments to choose from based on your risk level. You only need $250 to begin investing with Motif.
→ Visit Motif Investing's Website and Get Up to $150 for New Accounts
3. Prosper
Prosper is a peer-to-peer lender (P2P) that specializes in investing in consumer loans. At the time of writing this, they have a pretty high average return of 8.89% to investors. If you're new to investing this type of investment might not be for you. You take on more risk with consumer loans, so this one is really based on your personal risk preferences.
*Prosper isn't only for investors, you can also receive a loan through them.*
→ Learn More by Visiting the Prosper Website

4. eToro
eToro specializes in currency trading, but also let users invest in stocks and commodities. What I really like about eToro is their member community, which allows you to communicate and interate with other members and learn from one another. There are currently 4.5 million members, so it's a large community.
Sign-up for a eToro account through one our links on this page and Receive a 30% Deposit Bonus!
→ Learn More by Visiting eToro's Website
5. TradeKing
TradeKing is a great service if your looking for a traditional brokerage account. You pick our own investments. I suggest using all the great tools they offer because they really are helpful. I'm not going to go into too much detail on TradeKing here, instead I recommend reading the detailed review I wrote on TradeKing.
Since I'm a member, TradeKing has provided me with a special referral link that you can click on to receive $50 sign-up bonus when you open an account with them. This discount is only offered on this site! There are certain requirements you need to meet to receive the $50 sign-up bonus.
→ Read the Full Review on Tradeking to Learn How to Receive $50

6. FutureAdvisor
FutureAdvisor is an Online Investment Advisor that automatically manages your investments for you. It automatically builds and maintains a portfolio that maximize returns based on your personal preferences, like age and risk.
→ Learn more by Visiting FutureAdvisor's Website 
Setting Up Your Online Investing Brokerage Account
Link To Your Bank Account
Now that you set up a brokerage account you need to put money into it and fund the account so you can begin investing. This is done by linking a bank account to your online brokerage account.
If you don't have a bank account or want a separate bank account specifically for investing you can easily set one up an account with an online bank.
Related Articles:
Manage All Your Investment and Other Financial Accounts In One Place
The best way to stay on top of all your Brokerage and Investment Accounts, Bank Accounts, Credit Cards, and Loans is to be able to track and manage them all in one place. Simply create an account with them, then link all your accounts to it, and then your done and you'll be able to view all your investments and balances there.
Here are a Couple Good Free Services to Manage All your Accounts in One Place:


On top of being free and a good service all around, I also like Personal Capital for their colorful and detailed charts that show how much money you've made and/or lost. It'll show you which accounts are your best performers and whether or not you're paying to much in fees on your investments. Personal Capital's service is better than most of the other ones out there for linking and managing your investment accounts.
→ Read the Full Review for Personal Capital 
---
Protect Your Financial and Investment Accounts, and Your Online Identity in General
Something to consider before you start moving money around online and making online investments is to make sure all your online activity and personal information is secure online. The best sure way to prevent identity theft is with a service called LifeLock. They specialize in the prevention of identity theft, keeping all your finances secure, and makes sure nobody messes with your credit.
Today with the constant occurrence of online hackers stealing personal information like banking and credit card account information, LifeLock is a sure way to protect yourself. LifeLock has allowed me to give my a readers a 10% discount off their membership service, you can receive this discount by clicking the link below:
→ Save 10% on a LifeLock Membership 
---
Decide if You Want to Manage Your Own Investments, Or Automate Them with a Robo-Advisor
Will You Manage Your Investments or Choose a Robo-Advisor?
Decide if you want to pick and manage your own investments, or automate your investments by having a robo-advisor pick and manage your investments.
Pick What You'll Invest In
Then decide on whether you're going to go with individual stocks, mutual funds, ETF's, Index Funds, Bonds, currency, investing in consumer loans, or a combination of everything.
Learn, Learn, Learn!
To become a good and successful investor you need to keep educating yourself and stay current on the topic of investing.
Here's some great books to get you started…
Summary
Article Name
Investment Guide for Beginners
Description
An investment guide to teach individuals about investing and how to get started. Learn about bonds, stocks, ETF's, mutual funds, index funds, currency trading, and more. The guide will also teach readers about different online investment platforms, such as online discount stock brokers, robo-advisors, and peer-to-peer lending (P2P).
Author